Movable Type Dynamic Publishing Error
As is described in [this article][1] [[Google translation][2]], if you enable dynamic publishing of templates: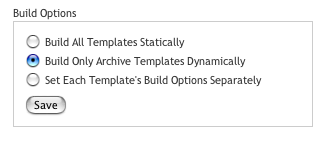 You will get an error saving (at least some) templates:
> Saving object failed: Update failed on SQL error You have an error in your SQL syntax. Check the manual that corresponds to your MySQL server version for the right syntax to use near ' template\_created\_on = '00000000000000', template\_created\_by =
If you turn of dynamic publishing, then you will not get the error. The person with the original report seems to have a much better understanding of what t takes to actually fix the bug. I just want to get the text of the error in a page so that hopefully others can see the temporary workaround.
[1]: http://shibirekulage.com/archives/000431.html
[2]: http://translate.google.com/translate?hl=en&sl=ja&u=http://shibirekulage.com/archives/000431.html